Adolescent & Youth Fitness Programs:
Our adolescent and youth fitness programs are specifically designed for ages and fitness ranges from 6 years to adults and from novice to collegiate levels.  Each program is designed to build a strong foundation of healthy, strong, and motivational skills to apply to the sport they partake in and their overall fitness and health.  Our program introduces them to each exercise slowly and gets them used to fitness at an early age for those who are new to exercise. It makes it easier for them to continue this "healthy habit" for the rest of their lives. Our programs are designed to help kids who at all levels of exercising or playing sports to continue reaching their goals of getting to the next level of their game and their fitness and improving their performance. We aim to help develop coordination, agility, speed, and strength during our fitness programs. Our ultimate goal is to help parents address the negative impact of screen time on the positive influence that fitness can have by attending these sessions.
Outcomes/Benefits of all Youth and Adolescent Fitness Programs:
Raises Overall Fitness Levels
Improved Endurance & Stamina
Increases Heart and Lung Capacity
Auditory & Visual Processing Speed
Improved Core Stability & Balance
Improved Motor Coordination
Small group SQA Bootcamp (Speed, Quickness, and Agility) training provides a system of exercises and skills aimed at developing motor abilities and the control of body movement to improve the athlete's ability to perform explosive multi-directional movements effectively. They also help to implement healthy habits, proper body positioning, balance, coordination, and hand-eye coordination for each athlete. With the use of our cutting-edge programs like FitLight® and Interactive Metronome®, athletes of all ages can be able to see improvements in their sports!
---
Speed, Quickness & Agility Boot Camp Classes Overview
These classes focus on staying healthy and fit using dynamic full-body movements that build coordination, athletic ability, and confidence. Participants will improve their overall physical fitness level through various cardio, toning, and stretching exercises. The participants will be introduced to different workout formats, including timed and high-intensity interval training as well as sport specific drills and  circuits. As we progress through the workout, we will discuss the muscle groups in our body and which exercises we can perform to target each muscle group as well as core coordination, speed, agility and overall strength. The atmosphere created during the class is fun and motivational and helps foster a positive attitude. Each session involves different exercises and movements and is never the same, so the kids and teens never get bored.  The uniqueness of the exercises during each workout helps to keep up the excitement about participating.
As the sessions progress the intensity of the workouts will too as we combine cardiovascular/resistance training and functional training throughout the drills.  The SQA Bootcamp program is designed to help participants develop cardiovascular/muscular endurance, stamina, teamwork, and perseverance of physical and mental challenges.  Regardless of the sport that your child plays, speed and agility training exercises are essential to developing a young athlete's performance and ability.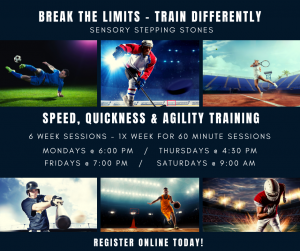 For more information on Speed Quickness and Agility Training check out our Blog on it! What is Speed, Quickness & Agility (SQA) Training?