Art Classes
Art – A Conduit for Healing
Within each art class we explore an individual's artistic skills to continuously build their creativity and development in not just art and craft projects but in their communication skills and to help enhance their self-esteem.  Art, can be a unique and creative approach to also further an individual's ability to communicate their feelings and emotions for themselves and with others in a new way.
All sessions in art are small in size to be able to address the needs of every participant and are based on skills and projects for their age level. ALL art supplies for the projects during the sessions are included in the fee.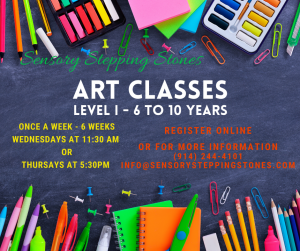 Art Level I (Ages 6-10)
These art classes incorporate the novice to the more creative with a variety of art projects with as much help and guidance as the individual needs to spark and develop their creativity.
Art Level II (Ages 11 & up)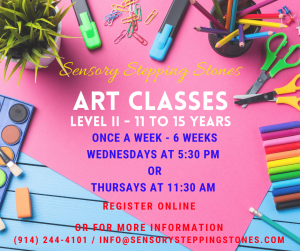 These art classes designed for pre-teens to explore the more challenging art projects with less help and more individualized creativity. A goal is to help build up their confidence and acceptance of who they are as an artist and gives them the techniques to become more aware of how positive and creative self-expression can impact life experiences.