Teaching a disorganized child to organize takes a village.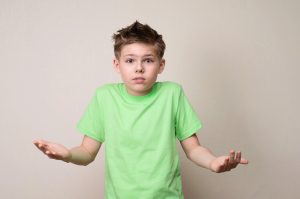 If you are a parent and have no issues in this area, it can be very frustrating to understand that your child is not doing this on purpose and doesn't possess the skills to change. If you do also struggle with organization, you might understand but might be powerless to help.
One of the things to keep in mind is that we are asking our children to learn a new skill, but we are asking them to change a behavior they struggle with. When I was in graduate school, I had a professor who felt very strongly that changing behavior is about taking tiny baby steps. To illustrate how difficult change is, he asked that we reach for the soap with the opposite hand in our daily shower than is normal for us. That's all! Just use a different hand to get the soap. Guess what happened? Nobody did it. Either we forgot, or it felt so strange that we ended up doing the same old thing. Point made. So remember……..Baby steps!
Here are some things you can try. Just try and select ONE. When that skill is mastered, select the next. I do, however, suggest doing the first one before any others.
1- Make a list of all the disorganized behaviors/habits you would like to see change.
You should do this together with your child if they are old enough. Learning to be organized should be a family journey. It will be much more successful if everyone is on the same page. Also, you might be surprised that your child is as frustrated as you.
2- Select the one behavior that is causing the most angst.
3- Make checklists – lots of checklists.
An example of a morning checklist:
a) Get out of bed
b) Brush your teeth
c) Take a shower (If shower in the morning)
d) Comb hair
e) Get dressed (Clothes should be selected and laid out the night before)
f) Put dirty clothes in a hamper
g) Go to the kitchen, get cereal box, milk, spoon, and bowl, and eat breakfast
h) Put dishes in the dishwasher
i) Get a coat, backpack, and any sports equipment (All packed up the night before).
Remember we talked about baby steps, so maybe start with the first two and see how it goes. Add another from the list as you see success. You decide where this list is placed and in what form. It can be a sticky note on the bathroom mirror, a whiteboard to erase, etc. As the child accomplishes the task, it should be checked off. Use lots of visuals. Checklists are good for everything.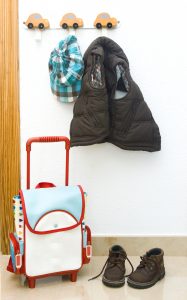 4- Have a designated area for the things the child needs for the day
This may be as simple as a hook and shelf or bench in an entranceway. Everything your child needs for the day should be packed up the night before and placed in the same spot each day. Bookbags should be stocked with school supplies (another checklist), homework should be in its designated location in the binder/trapper keeper, sports/activity supplies needed for the day, along with a coat if needed. In this way, your child just grabs and goes in the morning. Your child should do this with you, so they get used to the routine. Our brains are a muscle with muscle memory. If we do the same thing enough times, it becomes a habit and will remove a significant amount of stress each day.
5- Clean out book bags and binders 2-3 times a week.
Separate piles of papers into three piles:
1. Garbage (go through this twice before throwing out)
2. Put back in the binder in the proper place
3. Leave home if needed for the future
Designate a section of the backpack for all of the papers handed out by teachers during the day. This should be the ONLY place your child puts papers. It doesn't matter what condition they are in. It doesn't matter if they are literally just stuffing them in; even encourage that! You can always smooth out paper or tape rips. At least you will know where things are. Remember – baby steps; you could always adjust it so that they need to keep the papers in better condition as one of your goals later on.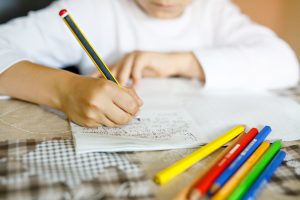 6- Have a separate homework file for any assignments that are not digital.
This should be the ONLY place homework goes. This way, when the teacher asks for homework, there is only one place for your child to look, which dramatically cuts down on frustration in class. For digital assignments, go to where the teacher posts homework and projects because it is Google classroom for many. Make a chart, by subject, of all assignments due. List the date they are due and then assign a day to do them (or makeup). Many teachers will still give credit for late assignments, even if it is only partial credit.
7- Keeping a child's room clean can be an exercise in futility. Try creating bins and labeling them. (Toys, clothes, etc.).
Bins may not be your idea of elegant decor, but neither are piles on the floor! A child is more likely to try to do the right thing if it's easy. All they have to do is pick something up and throw it in the bin!
Finally, remember that negative punishment is not always as effective as positive reinforcement. Try taking a picture of something your child wants, an object, an activity, etc. Cut the picture into a reasonable amount of pieces (You decide what is fair). Every time they do the ONE behavior you are working on, they get a puzzle piece. When the puzzle is complete, they get that activity or object in the picture. Remember to post the puzzle where they can see it and reference it often. Make a big deal out of each puzzle piece earned as well.
Although there are many more strategies, let's start with these. Remember to be patient and supportive. If your child is truly struggling with organization, they are not doing it on purpose!
Now that you have some tips and strategies, Good Luck!
Is your child struggling with organization skills and strategies at home and in school? Our Organizational Coach can help you and your child or teen figure out where the issues are and some tips and strategies to get back on track. Contact us to get a FREE 15 Minute Consultation today! (914) 244-4101
Join our Facebook Group, and like/follow our Facebook Page or Instagram for more articles and tips!
---
Gale Zadoff is a licensed school counselor in New York. Her career has spanned over 25 years working with children and families in the High School and Middle School settings. Her passions are tennis, pickle ball, rescuing animals and spending time with her friends and family. In her spare time Gale enjoys spending time at home with her dogs (Sammi and Rocky), volunteering to making blankets for shelter dogs and cats, and reading as many books as possible.