Mindful Movement & Meditation Classes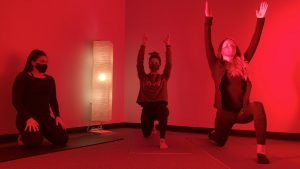 You may be thinking to yourself about two things.  What is Mindful Movement and Meditation all about? And what is this Red Light Therapy that everyone is talking about?  Believe it or not, Red Light Therapy has been around for quite some time, since the 1900s, to be exact, and is integral for life as we know it!
You see, when the cells in our eyes are exposed to blue light waves, that harmful light that is not only in our environment from the sun but also from all of our screens and devices, our brains and bodies work in reverse.  The melatonin that we usually produce stops, and the release of more stress hormones, which can wake you up, begins. This shift in our brains then creates more sensitivity to the blue light around us, leaving possible long-term adverse effects on our health. Since blue light is all around us, from sources that include fluorescent/LED lighting and all the digital electronic devices we are on (TVs, phones, iPad, etc.), red light therapy will help to counteract the blue light we are impacted by as well as having a variety of other health benefits.
In the 1990s, when Red Light Therapy was first being used, it was found that the extreme light that was produced by the Red LEDs helped in the growth process of photosynthesis in plant cells. This study was then expanded to relate to help increase energy growth in humans' cells, also known as (Adenosine Triphosphate) ATP. Our bodies produce ATP naturally when our bodies are exposed to natural sunlight. The Red and near-infrared wavelengths of sunlight stimulate our cells to turn the light into our bodies' energy.
Over time and other studies, it has been shown that Red Light Therapy can help bring the essential light wavelengths to the entire body, helping to reduce the production of stress hormones and stimulate ATP production (Adenosine Triphosphate). Red Light therapy has been studied and concluded showing positive results for the reduction of chronic and acute pain, a reversal of skin aging, an increase of collagen, promoting weight loss, helping to balances thyroid function, helpful in the reduction of stress, reducing inflammatory pain, decreases muscle fatigue, and so much more.
The implementation of combining Red Light Therapy with our Mindful Movement and Mediation session will help your body recover and heal faster and easier. Our mindful movement sequences of exercises help affect your muscles' deep fascia, reducing inflammation and stress. Throughout continued weekly sessions, these therapeutic stretches and exercises will help ease the aches and pains you feel, increase your relaxation state, promote better sleep, boost your energy, brighten your mood, and increase your overall muscle tone, flexibility, and strength. Each session ends with a soothing and healing meditation to soak up the red light in stillness. The addition of the mediation component will help to both calm your mind and ground your body. Combining red light and mindful movement and mediation in the same session is proven to accelerate and amplify all of your results.
Each session consists of a guided 50-minute sequence followed by a meditation, all while exposed to the red and near-infrared light. Since each class is conducted in either a private or semi-private group, we will focus on individual needs and provide you with modifications if necessary.
*Official FDA class II Medical Device