Red Light Therapy and Syntonics
Red Light Therapy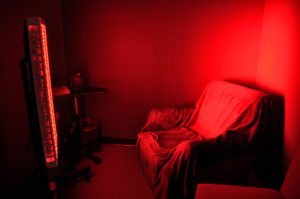 Red Light therapy * is a process of where LED lights emit low light wavelengths to the skin. These wavelengths cannot be felt and do not generate any heat upon exposure.  This type of light therapy will help to naturally stimulate your body's own production of ATP (Adenosine Triphosphate) which is a key element in cellular regeneration.  This stimulation of ATP along with improved circulation and cellular respiration lends itself to a massive variety of applications with results that are truly life changing!
One of the things that Low-Level Light Therapy (LLLT) like Red Light therapy or even syntonics can do is to help the body heal from the inside out, rather than just providing relief from symptoms.  LLLT – Red Light Therapy and Syntonic Phototherapy can help you with issues related to:
Brian Fog & Mental Clarity
Increased Energy
Reduced Fatigue & Inflammation
Lyme Disease Symptoms
Fine Lines & Wrinkles & Hair Regrowth
Skin Issues (like psoriasis or acne)
Reduced Swelling
Improves Bone and Wound Healing
Improved Recovery from Concussions /TBI
Regulation of Mood/Emotional Imbalances
*Official FDA class II Medical Device
Blog Post: What is Light Therapy and How Can it Help?
Syntonic Phototherapy
Syntonics, Low Level Light Therapy (LLLT) or optometric phototherapy, is the science of the application of selected light frequencies through the eyes. It has been used clinically for over 70 years in the field of optometry with continued treatment success for many issues such as visual dysfunctions, including strabismus (eye turns), amblyopia (lazy eye), focusing and convergence problems, learning disorders, and the after effects of stress and trauma.  In more recent years, Syntonics or LLLT has been shown to be effective in the treatment of brain injuries and emotional disorders and most recently as an effective treatment for Seasonal Affective Disorder. (Low Level) Light Therapy is also now commanding respect in the medical community as its benefits are investigated in the treatment of jet lag, PMS, sleep disorders and conditions related to the body's daily rhythms. It has also been shown that even the exposure to certain colors can be found to affect behavior, mood and physiological functions.
Blog Post: Seasonal Affective Disorder (SAD) and How Light Therapy Helps