Summer Programs
Our 2022 Summer Wellness Camps are back!!  Participants can sign up for one or all of our amazing four weeks.
The Sensory Stepping Stones Wellness Camps will run for a block of 5 days/week offering an array of activities like yoga, art, fitness, socialization, mindfulness and other activities and games based on the weekly theme (listed below).
* Limited Spaces for Individualized Attention
* All Classes Supervised by Trained Professionals
* 6 to 10 years -Mornings 8:30am-1:30pm (Bag Lunch Required)
* 11 to 15 years – Afternoons 2:00pm-7:00pm
---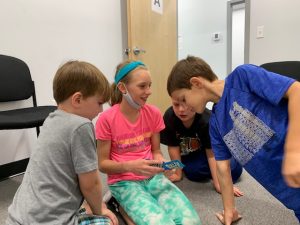 Camp Program Descriptions:
*Yoga – Developing coordination, flexibility & focus while being creative and fun with yoga moves
*Art – Learning coping skills and strategies while incorporating fun art projects
*Socialization & Games – Groups based on the ages and needs of the participants we may cover specific areas and topics like confidence and self-esteem to anxiety, stress or social skills
*Fitness – Group activities utilizing our FitLight Program and developing speed and agility skills in challenging but fun ways
*Mindfulness– Developing the mental ability to pay full attention to something and tuning out distractions both internal and externally.   Helping create habits to slow down and really notice what you're doing
Session Weeks:
*
July 11th – July 15th = Nature Week


*

July 25th – July 29th = Animal Week


*

August 8th – August 12th = Adventure Week


*

August 22nd – August 26th = Holiday Week
8:30am to 1:30pm: 6-10 years
     *Bag Lunch Required for Morning Sessions
2:00pm to 7:00pm: 11-15 years
Pricing:
1 Week / 5 Days – $350.00
2 Weeks / 10 Days – $650.00
3 Weeks / 15 Days – $965.00
4 Weeks / 20 Days – $1280.00
Discounts on multiple weeks can be done when registering online
MUST Contact Clinic at (914) 244-4101 to obtain a sibling discounted rate!