It can feel like groundhog day almost all the time trying to get your child to do their schoolwork and homework. It is a struggle to get them to go online and check-in or do assignments and forget about them doing any of it on their own! They seem to continually have a difficult time reading, copying work from the smartboard, and remembering what they just read. Their self-confidence has been slowly diminishing, and they miss the most obvious social cues from other children their age. You know that they can see as you just went and had their eyes checked, and they were given a 20/20, clean bill of health. It feels like they are just not seeing what is right in front of their noses!  
If this sounds like your child, family, or daily struggles, you are not alone! 
Many children and teens that have 20/20 vision or who pass a vision test with excellent visual standards can still struggle with 'visual processing issues.' Visual processing issues stem from a weakness in the connection between the brain and eyes, not the actual eyes. This poor connection can directly affect how one processes the visual world, including symbols, letters, pictures, and distances. While they will not outgrow this on their own, there are some things that you can do to help them cope and compensate for these challenges to succeed!
First, learn as much as you can.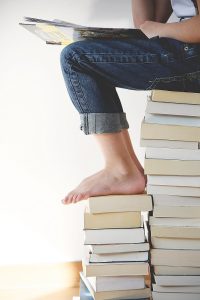 The more you know, the more you'll be able to help your child. There are many websites and parent support groups that can help you answer questions and concerns that you have around visual processing as well as other processing issues that your child or teen may be dealing with. We provide a symptom and solution checklist for parents to start to gather this information, which is available on our website; www.sensorysteppingstones.com.
If your child has a hard time in group settings, you may want to consider easing them into group situations and playdates. Try having a smaller group get together in your home where you can have less visual and more sensory-based activities planned out. If your child is an active observer, try not to force eye contact or communication – it may happen naturally. In school, they may offer small social skills groups to help strengthen these skills. Or you can find social skills groups that are run by therapists in your town or area that would include kids with similar issues.
I know. It can be frustrating when your child avoids eye contact, especially when you or another adult is speaking with them. However, most kids can find it more challenging to concentrate on what is being said when they are required to look at you directly in your eyes. And just your knowledge that this can be the case for your child can be half the battle. You then can let them know that it is ok while reinforcing that they need to show you that they have heard you. When you allow them to look down or away when you are speaking with them, as long as they show you that they have heard you, they will know that you understand them. After you give them the information or directive, ask them to repeat it to show that they genuinely processed what you said.
Pay attention to how they respond to everyday activities and scenarios.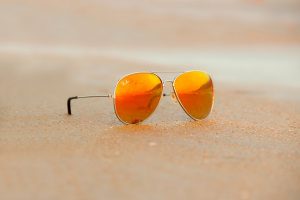 What about sunny days? Do they seem to squint a lot or have meltdowns after being outside for too long? Do certain places and lights seem to bother them? If they are oversensitive to sunlight, you can avoid glare with sunglasses or sun shades in car windows. I have found for many parents that sunglasses can be your best friend! A good tip and strategy is to have several pairs stashed around in various places like the car, your purse, and even their backpack because the overstimulation from too much sunlight can come when you least expect it! For those that do not like the bright lights inside, you can always try to use a dimmer switch in your home, especially in rooms where they spend most of their time. Sometimes the bright colors on the walls or the "visual clutter" of too many pictures, posters, and toys can also be overstimulating. Being mindful when choosing paint colors or decorations to keep these issues to a minimum will also help. There are also those children that can be under-sensitive and need more visual input. They may be more attracted to colors and may want more pictures and decorations. One thing that may help complete tasks for these children could be implementing a color-coding system for chores that can keep them organized. 
There are many different activities you can do with your child to practice better visual processing skills.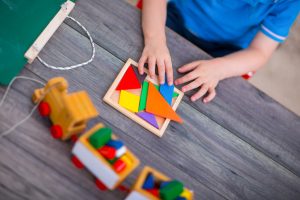 Doing puzzles together, reading "Where's Waldo" books, games like Spot It and Blink, or merely playing catch can enhance their visual skills. At home, you can even play a game using a hula hoop to help teach them about personal space- this can be silly and fun! Have a hula hoop ready for you and your child (and siblings). Wear the hoop around their waist and start moving around. See who can maneuver around the house or in the kitchen while others are there too! If one person bumps into another with their hoop – start talking about personal space and boundaries.
When it comes to sequenced steps or directions, make sure that it has been clearly explained and written out to refer to the steps to follow. When directives or instructions are lumped all together, it can become confusing or jumbled for them. Specific actions and the order to each step written in large, clear letters will help them organize and chunk the task better so they can complete it successfully. Here too, color coding systems may be helpful.
Become the best detective you can be! 
When you are with them, always observe and take mental notes of what is going on for them. Look at the areas or concepts that they are struggling with and trying to accomplish with little and no success. Doing so will help you develop a better understanding of what they are going through and what issues are more difficult than others. In turn, it can help you when you are trying to develop steps and a plan to help them succeed while they are with other family members or their teachers at school.
What can be done to help them if they are struggling with visual processing issues?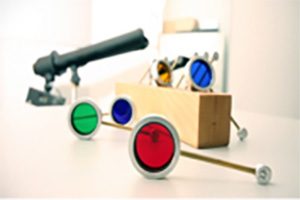 There are many alternative approaches out there to help children and adults that are struggling with visual processing. The first thing would be to have them evaluated to see what area of processing they are struggling in the most. This evaluation can be done with a developmental optometrist or a facility like ours that tests and helps address and treat the issues. Visual therapy typically includes a structured treatment process that utilizes skilled therapists, specialized equipment, and a carefully planned progression of activities to modify the visual system at the neurological level. These can be output exercises and drills or input therapy like the Sensory Learning Program or Light therapy (syntonic phototherapy) we offer here. To learn more about what Light therapy is, check out our recent blog What Is Light Therapy and How Can It Help?
---
As specialists trained in working with neurological processing issues, the Sensory Stepping Stones clinic and staff can help to assess and combat the behaviors and habits that you or your child is experiencing, especially when it comes to their visual processing systems.   We are here to help you overcome and work through the issues and symptoms that you may be seeing so that you and your child can experience a different kind of life!
Sign up for your Free Consultation today!
Join our Facebook Group, and like/follow our Facebook Page or Instagram for more articles and tips!
---
Melissa Bianchini is a licensed clinical social worker in New York and the owner and executive director at Sensory Stepping Stones, LLC.  Her career has spanned over 20 years working with children and families around neurological processing concerns, stress-related trauma, and anxiety.  Her passion in life is to make a difference in the lives of kids and families that she works with. It has led her spirit to create a facility that facilitates a holistic approach to overall health, wellness, and processing development for those 3 through 93 years young! To unwind and reconnect, Melissa enjoys spending time at home with her husband, Damian, and her dogs and cats, exercising, eating chocolate (of course!), and doing anything that involves nature!